The Home Page of your intranet is the front page of your 'intranet newspaper', where staff can see the latest news and information at a glance.
Designing an effective Home Page takes extra time and effort, as you want to strike a balance between enough content but not too much, work tools yet creativity and fun, brand awareness but a distinct identity.
Our blog posts are full of inspirational information to get you started on redesigning your Home page.
Best Practices for Your Home Page
When employees access your intranet, it's important that they're able to locate new, important information quickly and efficiently. The basics of home page design include:
Ensure that the most important information is displayed at the top of the page to make it easier to access.
Include white space and padding on your homepage to prevent it from being too text-heavy.
Be consistent in style and wording of widget/section titles to assist with scanning information.
Use your Governance document to help enforce the home page rules; learn more about Governance for Your Intranet.
Additional best practices are described below.
Make it Attractive
Bottom line, you want your intranet to be a place where staff want to come and visit. Hopefully there's some fun, company spirit, and a sense of the staff who work there - this is no place for stock photos!
Add color and graphics that tie in with your brand but set the intranet apart from your website.
Keep It Simple
Too much on your Home Page can make it difficult for staff to understand where they should look or what information is most important, and make it harder to filter relevant information. Staff are much more likely to continue looking through the intranet if the Home Page is well-laid-out and uncluttered.
Focus on the key elements for your business objectives and organizational culture, and make sure you have good navigation for staff to locate the rest of the intranet content.
Keep It Fresh
Think through what content gets updated fairly frequently and can be pulled into your Home Page, so there's something new with every visit and a reason to return. What's New is essential, but what other elements are key in your organization? This could include:
employee announcements such as hiring, retirement, new degree or position, etc.
sales figures
random company photos
training announcements
randomized tip of the day widget
external feeds such as the company Twitter
The Design-Build Process
Designing or redesigning a Home Page takes time and thought to do a good job, and you want to be able to create it without interrupting users on your site, whether your site is live or still being built.
Best practice is to clone your existing Home Page, build a new Home Page from the clone, then switch the site Home Page to the new version. To do this, follow these steps.
1. Clone Home Page
To make a copy of your existing intranet Home Page:
Click the Admin link, top right.
Click the Assets tab.
Click the card for the Home site.
Below the Home site card, the number of Apps and Pages are listed. Click the button with the number of Pages.
One of the Page Cards has a flag on it, indicating that this is the Home Page, as shown below (1).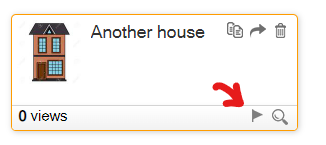 Mouse over this card, top right, to reveal a Copy icon (2). Click this icon. A copy of your current Home Page is immediately created.
Give the Home Page clone a descriptive name to help you locate it as you design (e.g. Home2).
Click Create to finish. You now have a duplicate of your existing Home Page where you can make changes as you like, without impacting users.
2. Build New Home Page
Now the work begins. Generally, dissatisfaction with something prompted the decision to redesign the Home Page, so that's a good starting point. What purpose(s) do you want your Home Page to serve? Where is it falling short?
Get input from your users, perhaps in a survey, one-on-one discussions, or small focus groups. Often staff can provide insights that help you better understand the issues.
Assess the Home Page with your team or with users. Ask specific questions such as:
Does the intranet reflect the company culture and the spirit of the site (i.e. is it fun? casual? a work tool? engaging?)
Is there a reason for staff to return daily or several times daily (i.e. is there frequent new content)?
Does the volume of content in What's New jive with the organization's needs (i.e. are staff seeing news as they need to, or are news items getting lost in HR or training announcements - and should these be pulled out into their own application feed widgets?)
Review the basics of building a Home Page, then perhaps try out new intranet functions that you might not already have in place. The following articles may help with some background knowledge:
Try putting items in place, trying things out, moving widgets - then stepping away and coming back the next day. Well-designed and well-thought-out Home Pages take some time to get right.
The final step in building a new Home Page is to test it with your staff. Ideally, you want them to love it, so get their input in a coffee/muffin session or one-on-one. Make any needed tweaks, then get some more opinions. This final testing step is worth it to increase your user-acceptance and engagement.
3. Switch Site Home Page
Now that you have an awesome new Site Home Page, the easy part is to put it in place for users. To do this:
Click the Admin link, top right.
Click the Assets tab.
On the card for the new Home Page, check that the title, icon, and description are what you want to have in place on the Home Page.
Mouse over the card for the new Home site to reveal a flag with a tool tip of make this the home page". Click the flag to make this the Site Home page.
Since there can only be one Home Page, the flag for the previous Home page automatically disappears. Rename this page as something like Home Page - archived [date] in case you want to refer to it later. We recommend not deleting this page for at least a few days, until you're sure you no longer want to reference it. You can always access it via Admin > Assets, or can click the card, click GO TO PAGE, then Bookmark the page via the Toolbox. Learn more about Bookmarks in the 'My Profile and Wall' article.
Now that you've got a new Home Page in place, check out the Insights Overview article so you can measure what's happening with users on your site and see the impact of changes.