To best understand how our software is configured to assist you, let's break down the core levels of our software.
Intranets made with our software have Sites, Applications - or Apps - and Pages. Each of these can provide various security access to different users.
Watch this quick video for an overview of the intranet architecture.
Sites
Sites are standalone areas of navigation, content, and design, and are the largest content grouping with our software. Your intranet may have only one site, a few sites, or many sites. Sites house content in the form of Apps and Pages, and most sites will include both of these. Learn more about Sites.
The hierarchy breaks down to Site level, followed by splitting between Apps and Pages.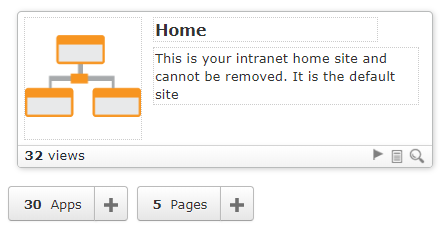 In navigating to Admin > Assets tab, you'll find the Home site which is the main site for your intranet and can't be removed. The home page of the home site is the front door to your intranet and includes information that all employees need to know about, such as today's news, company announcements, or external news feeds.
Team Sites
Team sites, or department sites, are a great way to group content by location, department, project, committee, or activity. You can make content accessible only to members of that specific team, invisible to non-members, or you can show it to everyone.
Each team site includes site-level navigation, as well as its own specific landing page, content, and even look and feel which is specific to that site. Team sites are a great way to delegate responsibility for content updates, so a team can be responsible for their area of the intranet, and even have their own design theme. Learn about creating Team sites.
Apps
Applications, or Apps, are pre-built to provide functionality for presenting information such as company news, documents, or calendar. Apps can be used right out of the box, with minor modifications for your organization such as naming the App or changing folder names as appropriate, and setting security.
Though they're ready to go out of the box, you can also customize Apps by adding or relabelling fields. Apps can also be cloned and repurposed as many times as you want, and can be renamed (e.g. company news relabeled as articles). Learn more about Apps.
Pages
Pages are standalone content without the added functionality of Sites or Apps.
There are two types of pages: Content Pages, which only have static content such as text; and Widget Pages, with static and dynamic (i.e. automatically updated) content - both are shown below. Learn more about working with Pages.
With a Widget Page, you have lots of flexibility in terms of both layout and function, presenting a variety of information to users in an efficient layout. Learn more about Widgets.