How to Register
To register for a Course, click the course name in a Training calendar, search for a Course within the Training App, or go directly to a Course page URL.
Any of those options will bring you to a page where the Session Dates for the Course are listed, along with the class size, current number of available seats, date, and time. If there are multiple Session dates, they'll be listed as shown below. To register, click a the linked Session Date name.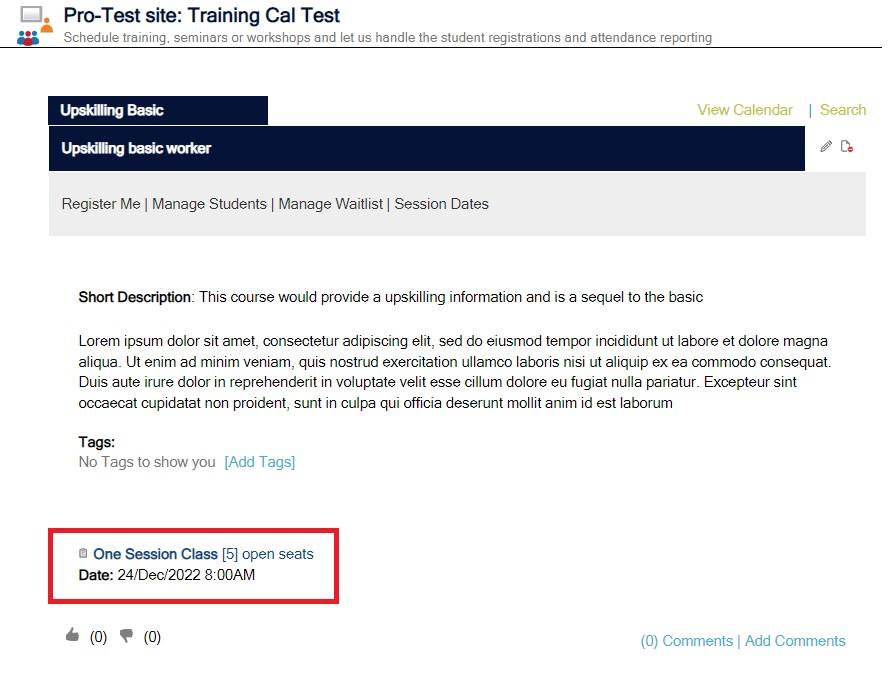 You're now brought to a screen with all of the session dates, as shown below. Click the button to select a Session Date and time.
If you don't supervise staff or if the organizational chart function isn't in place on your intranet, you'll only see a Register Me link (or Waitlist Me if the course is full, see below). However, a supervisor or Course Manager/Instructor can also register other users, so there's an option to select a user other than yourself (3).
Once the Session selections have been made and you've added any Comments as desired, click Register Me to complete the registration. Depending on the Course setup, you may receive an email confirmation of your registration.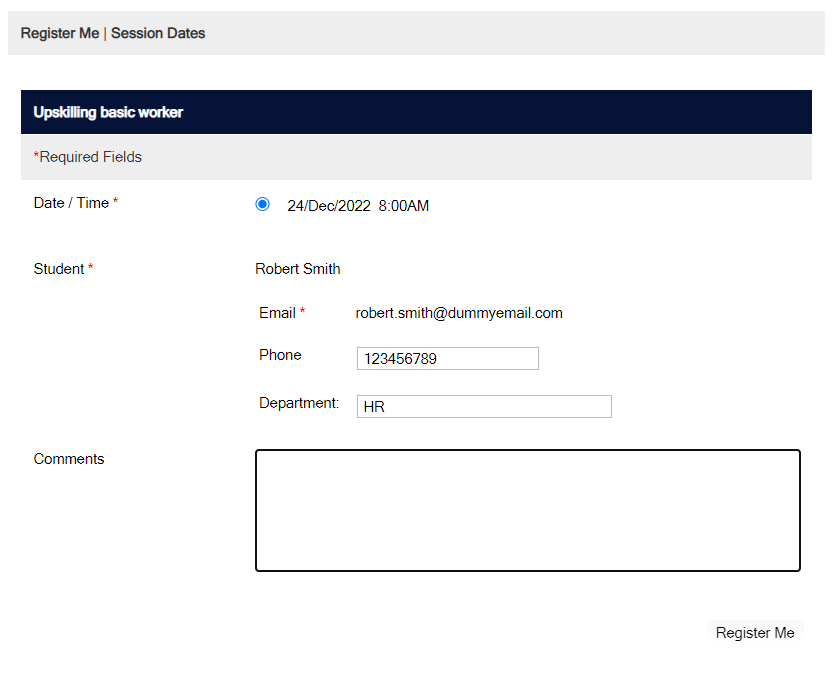 How to Waitlist
If a Session has no remaining seats, after you click on the Course title to register as above, you'll see an orange Full beside the Session date as shown below.
There will also be a new link on the page: Waitlist Me. After clicking this link, you'll see a page with your Employee Card and a Comments field where you can provide any specifics about your desired Session(s) before clicking Waitlist Me to confirm. A new field for Waitlisted will now appear on Training App pages under My Courses.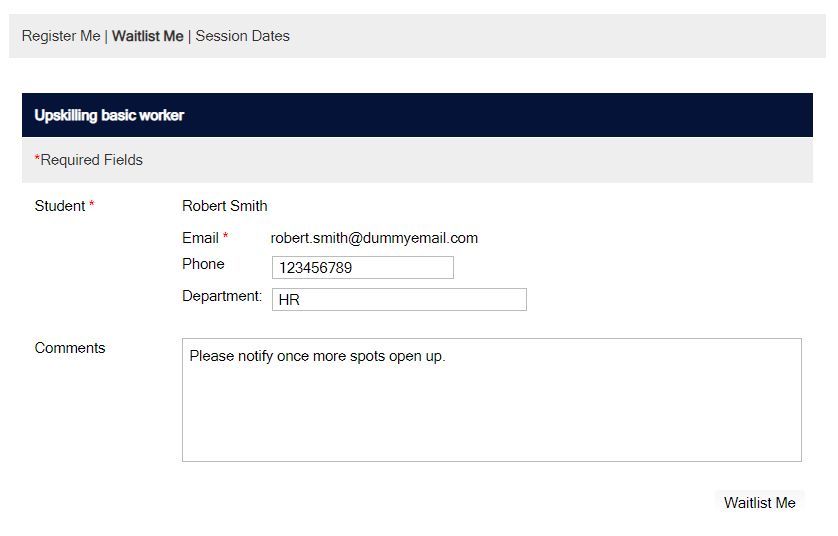 Note that waitlist doesn't automatically add you to the class if a spot becomes available. This is done manually by the Instructor or Course Manager.
Manage Your Courses
You have full access within the intranet to manage your own course registrations. You simply need to navigate to the Training App or Site on the intranet, and look under My Courses on the right (1). All course sessions for which you're currently registered will be listed here.
For each session, you can:
click the Outlook icon to download an ICS file which you can open to add the session to your calendar
click the small red delete icon to cancel your registration (note that you'll need to click OK to confirm (3))
click the Course name; this will open the Course screen which shows all sessions and the current registration. You can either click [remove me] (2) to be removed from the Course entirely, or click on another Session date which will move you into that Session after you click Register Me to confirm.