Company News is an application, or App, which can be used to post any news for the company such as organizational updates, promotions, retirements, birth announcements, etc.
The Company News App is one of our most popular, as it can be used in a variety of ways to share information with staff. Using Company News on Team or Department Sites is an effective way of sharing specific types of news such as HR updates or project news; learn more about Sites.
Build Your Company News
Start by following the process to add an App to a site.
Once you have the App in place, on the App Card change the title and/or description if you want to customize it for your intranet or for this specific use of Company News. Click Create if you'll return to it later, or Build if you want to start customizing or adding content right away.
Default Company News Layout
The Company News App comes with a standard layout for its default home page, List View, and Item View, as shown with sample content below. All layouts can be customized. Note that if there's only one folder, the Home Page will look like the List View.
App Home Page View

List View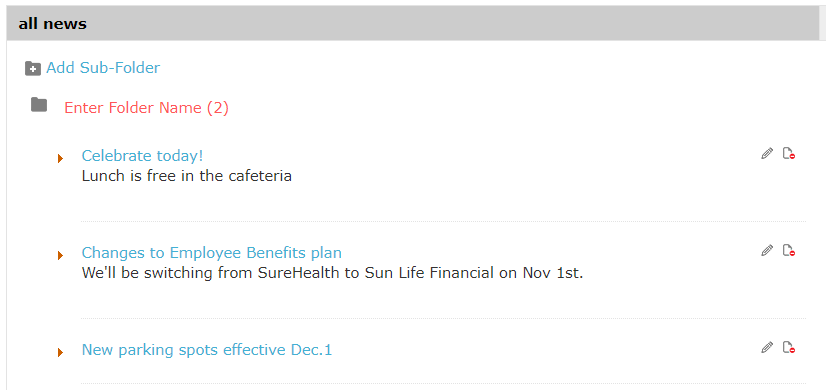 Item View

Customize Company News
As with all Apps, there are many ways to customize. When you're in the App, hover over the Admin icon in the Toolbar, and click App Admin to access the settings.
Other than the name and description, you can:
These are just a few of the many ways you can customize the Company News application so it fits with your goals.
Add News Items
To add a news item (assuming you have the permissions to do so):
Within the News App, click Add, top right.
Add the details of your news announcement:

Title - enter a brief but descriptive Title (required)
Summary - this will show in the advertising and in views such as the List View and others if selected
Message - the main body of the News announcement; can include all types of formatted text such as bullets, links, etc.
Publish On - this field is pre-filled with a default date/time but can be altered as needed
File attachment - use this if you have a document which should accompany the new item
Link attachment - if there's an associated link, you could add it here, but it's easier to simply add a link within the Summary field
Advertise to - specific options for advertising to the What's New feed on the Home Page:

Do Not Advertise - News item is created but not advertised on the Home Page
Advertise Now - News item is created and immediately advertised
Advertise On - choose a specific date (and time, if preferred) that the item should advertise; helpful when you're creating a News item well in advance but want it to advertise closer to the date

Thumbnail Graphic - either go with the default graphic or add a specific graphic by clicking 'Choose File'
Click Save to finalize your News item.
Tip
Is your news item showing in the What's New feed but has been pushed down lower than you want? You can easily alter its position using advertise settings! Click on the item, edit, and scroll down to Advertise To. If you want to move the item up a few positions, under Advertise On choose a date somewhere between its original date and the current date. If you want it as the first item, click Advertise Now. Finalize by clicking Save, then check the new position of the item under What's New. Repeat to adjust as needed.
Edit News Items
If a News item is updated, best practice is to edit the item (i.e. rather than creating a new item) so users can locate all information in one place. Editing a News item is just like editing any item on the intranet. Go to the item and click the edit pencil on the right side.
As you edit, keep in mind how the News item will look to users in the What's New feed. You can update the title of the item with new information so it's clear to users what has changed. Or add a Summary to highlight aspects of the item.
To retain your changes and maintain the current position in the What's New feed, click Save without adjusting advertising settings. To bump the newly-changed item to the top of the What's New advertising, click 'Advertise Now' before clicking Save to retain your changes.