Need extra help with learning the software? Check out our Introduction to our Intranet Software article.
At this point in your project, you've installed your intranet software and now you're ready to create your intranet.
Every intranet project is unique, shaped by organizational culture and resources. We've outlined some tasks which are common to nearly every intranet build.
Define Your Purpose
In most cases, an intranet is being put in place because something isn't working very well. Whether it's communication, processes, engagement, information-sharing, or document management, a problem has been identified and the intranet is going to make it better.
What's the goal or purpose of your intranet? A good starting point is to circle back to the pain points you were looking to address when researching for an intranet solution.
Once you have a clear mission statement or vision for your intranet, schedule meetings with your team, key stakeholders, and staff to discuss what each group needs to be able to do on the intranet. Your intranet will have a higher likelihood of success if it has a champion - someone (or a team) passionate about the intranet and the role it plays in organizational success.
Project Planning Questions
Working together with your project team or other individuals who will be moving the intranet forward, we suggest answering the following questions to help guide your build:
How do you want the intranet to look and feel (e.g. fun, reflect corporate values, colorful, energetic, etc.)?
Is the intranet intended to assist with day-to-day tasks (e.g. communicate/collaborate with team members, complete forms, etc.) or is it intended to be more of a reflection of departmental structure? Learn more about intranet navigation and task-based versus topic-based.
If there's an existing intranet, what content or structure will you retain for the new intranet? Have you done an inventory of content?
Will all content need to be accessible to all staff? Or will some content be locked down depending on the department/team/project? Learn more in our 'Security Overview' article.
Are documents currently stored on a shared drive that need to be added to the intranet for easier access?
How will intranet content be maintained after launch (e.g. by an intranet team, delegated responsibility for different areas, etc.)? Learn more about intranet Governance.
Regardless of the individual specifics, each intranet project will usually involve the following steps, provided with approximate timelines - note that steps may happen concurrently. Actual length of required time will depend on the extent and quality of existing intranet content, as well as the capacity of project team members (i.e. are they dedicated resources or doing this in addition to their usual job duties).
1. Project Foundation - 1-8 weeks
These foundational steps are essential to start any intranet project:
Identify project team members - ideally a team will work on the intranet to get cross-organizational input and share the workload. Best practice is to include at least one representative from Communications, Human Resources, and IT, as well as from each key stakeholder group (as applicable, based on your intranet content). However, we've had plenty of one-person 'project teams', and it can be done!
Set up server and install software (On-premise only) - after purchase, once your environment is prepared, a member of our Onboarding Team will work with you to coordinate installation and get the software on-site within your organization.
Admin training - depending on your onboarding package, and on project team members' availability and learning style, learning the software may take a week or a few months. To get you started, we've laid out an overview of key functions and how they connect to each other within the intranet.
2. Assess and Inventory Current Content - 1-8 weeks
If your organization has never had an intranet, this step could involve paper-based information such as forms. If the content is currently in place, it's a matter of assessing what's there and is working well, what's there and needs updating, and what can be eliminated. The length of time involved for assessing content will depend on the volume of current intranet content.
3. Create Navigational Structure - 2-3 weeks
Navigation is the heart of an effective and successful intranet, and it's worth taking the time to do right, Ideally, you'll want to get users involved in creating the navigation to increase the likelihood of finding information. Learn more in the 'Create Navigation' article.
4. Create Content - 4-12 weeks
Content is, of course, an essential part of your intranet. As you create the site, you'll need to:
Also, it's important to realize that ALL content doesn't have to be in place for the site to launch - just the key content that will start users getting comfortable using the site and will help them most frequently with their work. With this phased approach we've found that nearly all intranets launch with the following functions in place:
Employee Directory - the main reason many staff access the intranet, looking for contact information, titles, or photos; we strongly recommend having employee photos in the directory prior to launch, as it's a quick way to begin building staff engagement.
Documents and policies - typically either document, policies, or both are in place at launch, often with features such as read and confirm, or document versioning.
Forms - forms are a reality for virtually every organization, and including them on the intranet is a great way to boost staff engagement; start by either adding existing PDF or Word forms, or by recreating them as online forms for easier tracking and workflows.
The next function added is often team or departmental sites (e.g. Human Resources), so that either one type of content can be grouped in one intranet area, one staff group can manage content for one area, and/or a group can access content that the rest of the staff cannot. After these areas, organizations become very diverse as to the functions they include; our App Overview article may give your project team a better idea of the Apps that are right for your intranet.
5. Develop Intranet Branding - 3-4 weeks
Intranets generally have some personality, since they're practically a member of your staff. Spend some time on the branding to increase staff engagement, using our tips to Give the Intranet an Identity later in this article.
6. Key User Training and Testing - 2-3 weeks
Getting select staff involved prior to launching an intranet can give valuable feedback for small improvements which may have a big impact on your project success. Learn about Getting Users Involved Before Launch in our 'Launch Your Intranet' article.
7. Plan for Launch and Post-Launch Engagement - 2-4 weeks
After putting so much effort into a new intranet, it's important to launch with some fanfare so staff know all about their new work and communication tool. Start the initial planning for your launch and rollout well ahead of this point, and then kick it off just ahead of launch. Learn more in our 'Launch Your Intranet' article.
Give the Intranet an Identity
Repurpose Demo Content
Sites and Apps are included with basic demo content to show you how they function and to help you learn how to use them.
When you're ready to build your site, we recommend the following steps:
Hide Sites - remove all Sites from user view other than the Home Site
Create a hidden Site - create a limited-access Site and move all demo Apps to that Site so you can access as needed but users can't
Repurpose Forms App - Forms is only found on the Home Site and can't be moved, so hide folders so you can access as needed but users can't
Home Page - create a new Home Page specific to your intranet
Demo Users - the final step is to remove the demo users who were there to show functionality
The steps involved for each of these items are outlined below.
1. Hide Sites (or delete)
Hiding a Site means that only users given permission can see its content. To hide a Site from users:
Access the Site either directly from the navigation or from Admin > Assets. If you accessed the Site directly, hover over the Admin icon, top right, then click Secure Site.
In the menu on the right click Site Access.
Click the box top left for View Security. If you want to be the only one to view the Site, you're done. If you want other individuals or groups to continue to be able to view the Site, choose their names in the drop-down boxes. (Note that applying View Security will also hide the Site in the Global Navigation for users.)
If you want to simply delete the Site, go to Admin > Assets, locate the Site, then on the Site card click the trash can to delete.
2. Create a Hidden Site and Move Apps (or delete)
Follow the process to Add a Site and name it Hidden or something similar that will make its purpose clear to you.
Using the main site menu, go to an App that you want to keep, hover over the Admin icon, top right, and click App Admin.
Above the App card, click Apps in the breadcrumbs and you'll go to a page with all Apps showing for that site.
Mouse over the card for the App you want to move, and you'll see an arrow as shown below. Click the arrow and choose the name of the Hidden site you just created.
Your App has now moved into your chosen Site, as shown in the breadcrumbs.
Repeat as needed for all Apps you want to move.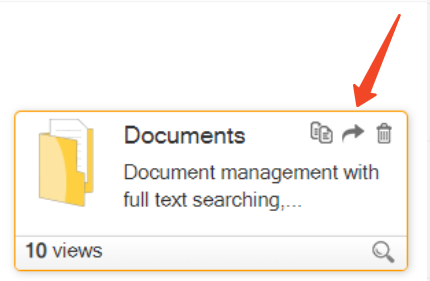 3. Hide Folders in Forms (or delete)
To keep an App for your own reference, you'll need to hide the folders, as follows:
Go to the Forms directly from the navigation.
Hover over the Admin icon, top right.
Select Manage Folders.
Click on a folder name, and click apply beside folder security, as shown below, to apply security.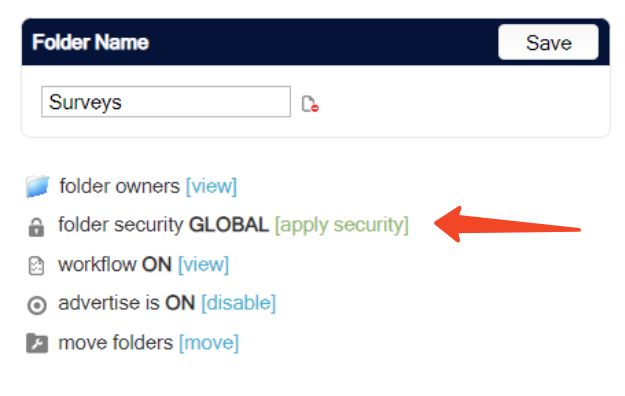 You'll see that Global View is ON, meaning that all users can see the item. Click turn off so the App won't be viewable by all staff.

Repeat so all folders are hidden from Global View. Alternatively, to save time you can delete folders (by clicking the red circle to the right of the folder name, shown below) and retain only one in order to see the App functioning.

4. Clean Up the Homepage
There are two ways you can clean up your Home Page. Either build it from scratch with a new widget page, or delete the widgets you don't want and add the ones that you do; both options are described below. Regardless of the option you choose, have a look through the articles Home Page and Redesign Your Home Page for ideas and inspiration.
Build a New Home Page
The cleanest way to create a new Home Page is to add a new Page to the Home Site, add the widgets you want, and designate it as the Home Page, following these steps:
Use the article instructions to 'Add a Page' and choose a Widget page. This will give you an empty page where you can start adding widgets.
Decide on the widgets you want, such as a What's New Feed, Content Feed, by looking at the Types of Widgets article.
Add and reposition widgets, rows, etc. following the instructions in the Widget Overview article.
When you're ready to make your new page the actual Home Page of the intranet:

Hover over the Admin icon, top right.
Click the Assets tab.
On the card for the new Home Page, check that the title, icon, and description are what you want to have in place on the Home Page.
Mouse over the card for the new Home site to reveal a flag with a tool tip of "make this the home page". Click the flag to make this the Site Home page.
Since there can only be one Home Page, the flag for the previous Home page automatically disappears. Rename this page as something like Home Page - archived [date] in case you want to refer to it later, or click the trash can on its card to delete it if you know you won't need it.
Revise Widgets on Existing Home Page
Since a Home Page is a collection of widgets, cleaning up the Home Page is as simple as deleting all of the widgets.
To do this, when you're logged in as an Admin, go to the Home Page and click on Edit Page on the top-right toolbar.

Mouse over the widget you want to delete it will change color and show three icons.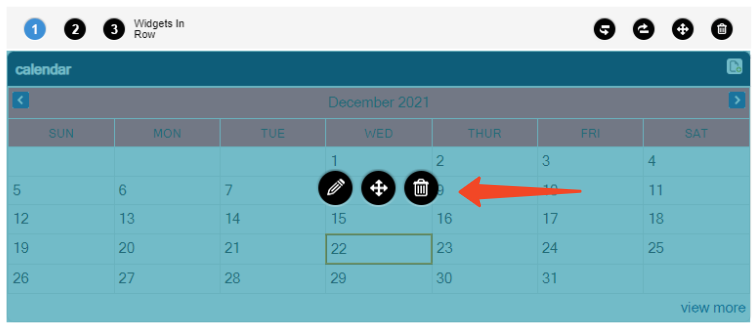 Click the trash can to delete the widget.
A message box will appear, checking if you want to permanently delete the widget. Click OK.
The widget is now gone and the frame remains. If you want to remove the widget frame as well, click the trash can in the top grey row, then click OK.
If you're finished on the page, click Save Widgets at the bottom to exit the editing mode.
Continue to delete, move, and add widgets as needed. Learn more about widgets in the 'Widget Overview' article.
5. Clean Up Demo Users
To remove the demo users that came with your installation of the intranet:
When logged in as an intranet Admin, click the Admin icon, top right.
Click the Security tab.
Under Logins, click Find Logins.
Scroll down and click Search without entering any specifics. (Note: if you've already synced with Active Directory, check the box beside 'find Form-based logins' and click Search. )
All of the demo users will be displayed in the search results.
Check the box beside each user you wish to disable, or click 'select all'. Deselect the Kelly Bristow account if you're currently using it.
If you're logged in with the Kelly Bristow account, do NOT delete this account or you'll be locked out of the intranet and will have to contact Support to regain entry.
Click Disable, top right, as shown in the image below: