My Dashboard gives employees a quick overview of items requiring their attention.
There are three areas of My Dashboard: Alerts, Read & Confirm, and Document Reviews, as described below. The current number of Alerts is also shown in the Toolbar, as in the below image.
Note that My Dashboard was introduced with Version 13.5 and didn't exist in earlier versions; if you're interested in upgrading your site, contact support@intranetconnections.com.
Accessing My Dashboard
When a user hovers over their name and photo in the Toolbar, the link for View My Dashboard displays. Click to access My Dashboard.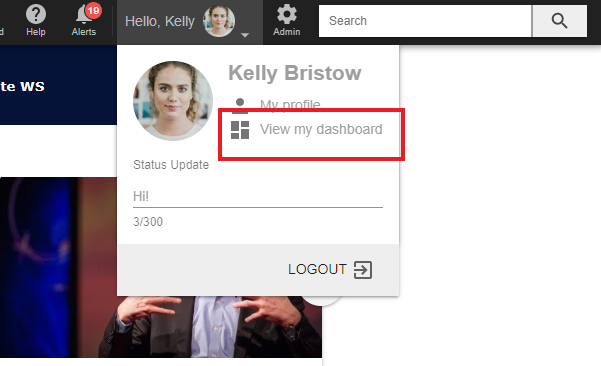 Alternatively, after clicking My Profile or any Employee Directory category page, the My Dashboard section shows on the right, along with other personal links.
Alerts
On the Alerts screen, you can see any items that you've received notifications for, including but not limited to:
new items published to a folder you've subscribed to for alerts
items requiring your approval where you've been set up as an approval manager
items requiring your review
wall post alerts
The total number of alerts is shown in the Alerts tab as well as in the sidebar link (1), and in the Alerts icon on the Toolbar. Once you're on the Alerts tab, the count of each type of item is shown(2), including upcoming dates.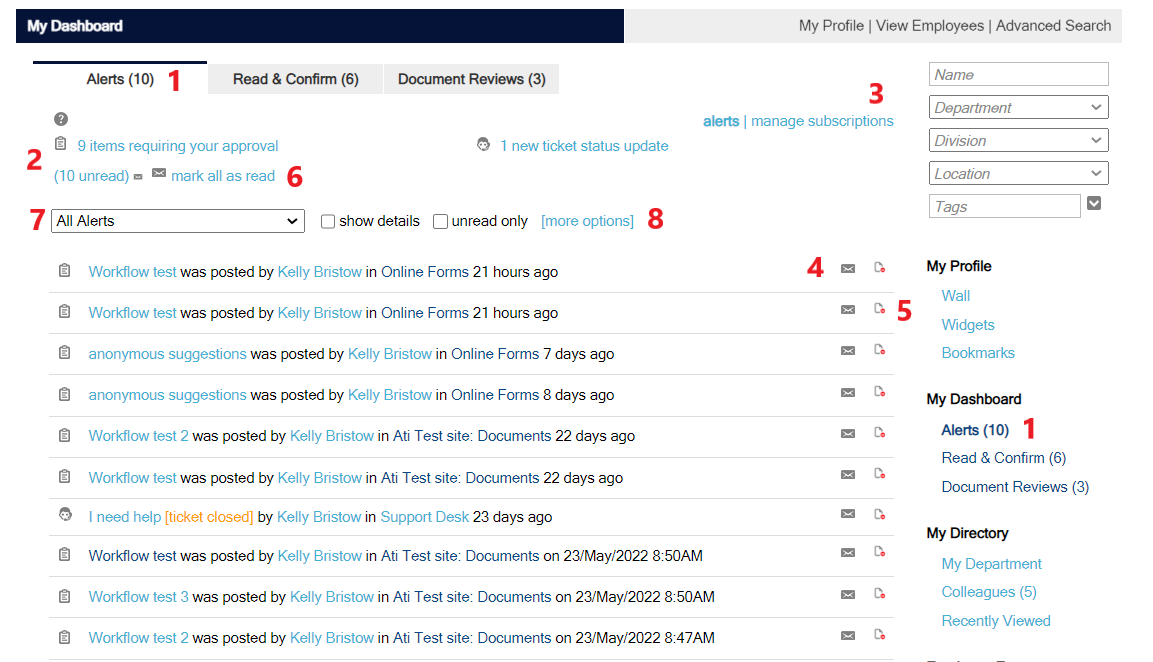 Items are listed with the newest alert on top. Details of the Alerts page and actions you can take:
Manage your subscriptions (3), or subscriptions of other users and/or groups; learn more about managing subscriptions
The mail icon (4) shows that the item hasn't been read. To get rid of the mail icon, either click the icon, or click the item name which will take you to the item to view it and automatically mark the alert as 'read'.
The delete icon (5) allows you to delete the alert (note this won't delete the item, just the alert).
To clear the unread status of all alerts, click mark all as read (6).
Click the All Alerts dropdown (7) to show only alerts of a specific type, such as approvals, comments, or review dates.
Delete individual alerts as above, or delete in bulk by clicking more options (8) and clicking delete all alerts.
Filter alerts by a specific date range by clicking more options (8) and choosing your dates.
Note that notifications in My Dashboard are manually managed by each user. A notification appears automatically as specified by the content setting, and isn't cleared from the dashboard until the user removes it (i.e. notifications don't update based on actions taken elsewhere on the intranet).
Read & Confirm
Read & Confirm is an intranet function where users are required by the organization to read a specific document (e.g. a policy) and confirm that they've read it; learn more about Read & Confirm.
When you click the Read & Confirm tab, you can see which items need to be read and confirmed by you, as well as items you have previously read. Clicking the document title will take you directly to that item. However, this will not confirm that you've read the item until you click the Read & Confirm button.

Document Reviews
Document Reviews shows a list of documents which you're responsible for, which have reached or passed their 'Review Date'. You'll also see documents which are coming up for review that you own.
Clicking the title will take you directly to the item for you to review, so you can make any changes as necessary. Learn more about document review dates.