The Job Center App is a ready-to-use way for you to easily display job openings to your staff.
Build Your Job Center
Start by following the process to add an App to a site.
Once you have the App in place, on the App Card change the title and/or description if you want to customize it for your intranet. Click Create if you'll return to it later, or Build if you want to start customizing or adding content right away.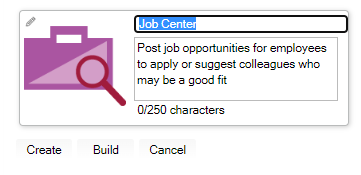 Default Job Center Layout
The Job Center App comes with a standard layout for its default home page (content), List View, and Item View, as shown with sample content below. All layouts can be customized.
App Home Page View with folder tree/list layout

List View (Type: table)

Item View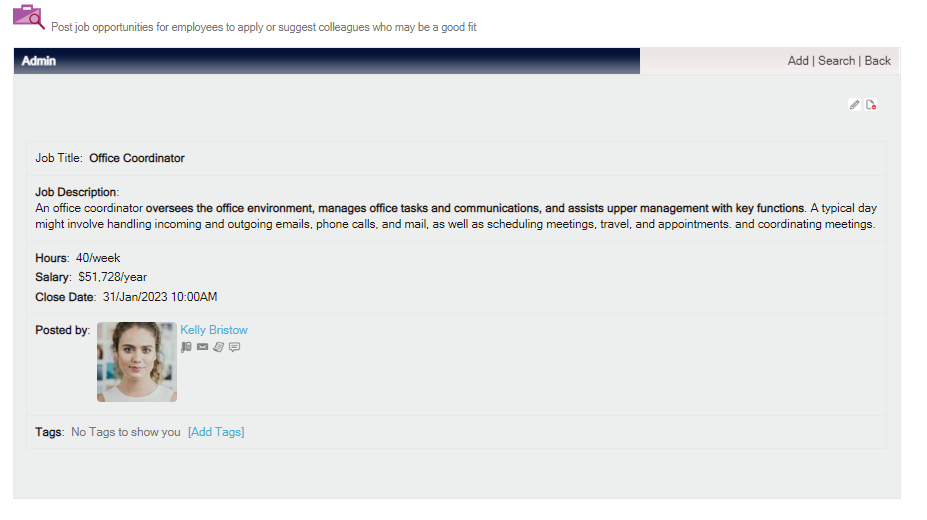 Customize Job Center
As with all Apps, there are many ways to customize. When you're in the App, hover over the Admin icon in the Toolbar, and click App Admin to access the settings.
Other than the name and description, you can:
Choose which fields to display - click Manage Fields to view the current fields in the Job Center App. There are fields for typical job posting information such as Title, Qualifications, Salary, Vacation, etc. You can choose to rename, delete, add, or make required any of these fields. If you mouse over a field you'll get the crosshairs which allow you to hold and drag the field to reposition it, or you can click the edit pencil to show more options or the red circle to delete the field. Learn more about managing fields in the App Overview article.
Change the layout - edit the layout of the App Home page, List View, or Item View. Learn more about Layout for Apps.
Use folders to group contents - click Folders | Security to add, rename, or delete folders to categorize links. Click on the folder name to adjust the security of that folder. Learn more about Security for Apps.
Add an approval function - click Approval Workflow, then click on a folder name to assign an Approval Manager workflow by folder. Learn more about managing folder workflow in the App Overview article.
Advertise items - click Advertising Options, then click on a folder name to determine whether items in that folder will be advertised to the site homepage.
These are just a few of the many ways you can customize the Job Center App so it works best for your organization.