Online Forms (previously known as Form Builder, eForms, or Business Forms) is a powerful intranet tool which can simplify processes and increase the accuracy of information received.
Access Online Forms
Typically, an intranet menu will include a Forms Repository or something similarly-named where users who aren't Admins can view and access all forms, and that's the simplest way to access forms whether you're an Admin or not. From there you'll be able to edit a form, view responses, or add a form, depending on associated permissions.
As an administrator, there's another way to get to all forms using the following method - but it's much faster to use the non-Admin route in your site navigation as above:
Click the

Admin icon

in the Toolbar.

Click the

Assets

tab.

Click the

Home

card.

Click Apps below the Home card.
Scroll down to Online Forms and click it (note: the name may vary, depending on how your site was configured - the default icon looks like this: ).
Click GO TO APP near the top middle of the page.
Still having trouble finding Online Forms? Watch this short video walking through this process:
Unlike other applications, Online Forms can't be copied or moved between intranet sites, and it resides only under the Home site. The Online Forms App can't be deleted.
To add forms to other sites on your intranet, create a folder for the site's forms, set the folder security to match the site's security, and create a menu link to the folder.
Organize Your Forms
Folders can be used to group forms by type. This is also helpful for applying security by folder; learn more about Folders for Security.
Unlike other Apps, if there's only one folder in Forms the contents of that folder won't display for the users automatically (i.e. they'll see the folder name). To avoid this extra step, if you have only one folder and you're adding Forms to your site navigation:
Click on the folder name to access the contents.
Copy the URL in the address bar.
Edit your navigation and add the copied Forms URL as a Link to your navigation; learn more about editing navigation in the 'Create Navigation' article.
Types of Intranet Forms
There are three types of Intranet Connections forms you can create: forms, surveys, and tests. You can also add an already-created form file to the site (e.g. Word, Excel, PDF) or add a link to a file (even to an external website).
Each time you choose to add an online form, you'll be presented with the choices shown below.

Form
Use a Form for most cases when you need to get information from your staff, whether it's a Vacation Request or Expense Reimbursement.
Survey
Use a Survey when you want to get staff opinions beyond a one-question Quick Poll.
Test
Use a Test when you want to assess users' knowledge, and there are right and wrong answers and a passing score.
File or Link
You can also add a form to your Online Forms which already exists as a document or an online link. Learn more in the 'Add File or Link to Forms Section' article.
Plan Your Form
Form building comes with many options and choices. Before you begin to build a form, test, or survey, we suggest you sketch out your form's purpose, necessary data fields and the order of them, types of fields (e.g. text box, drop down), section names, etc. Also, give the form a name which will make its purpose clear to users - this is especially important when you have similar forms which may have a similar purpose.
Advance planning will make it much easier when you build your form.
Add an Intranet Form
Adding a form is quick and easy.
Access your forms area as above.
Click on the folder where you'd like to create the form.
On the far right of your screen, click Add, shown in the red box below.
Select which of the form types you want to create.
Follow the instructions for each of the tabs:
Alternatively, if a new form will be very similar to an existing form, you can Edit the existing form and click Clone Form. You will instantly have a new form with "[clone]" in its name.

Watch how a form is quickly added to an intranet site:
Publish a Form to Users
The key step in building a form, test, or survey - if you want users to be able to complete the form! - is to publish the form, making it live on the site and accessible. Until you publish, your form remains in draft mode, invisible to users.
To publish your newly-built form, when you're editing the form, click Publish. A box will pop up where you can confirm the title of the survey, add any search key words, and choose whether to advertise to the home page. Click the Publish button and your form, survey, or test will be available to users.

View Results
Once users have submitted their test, form, or survey, if you have access you'll be able to click the link below the form name for Responses.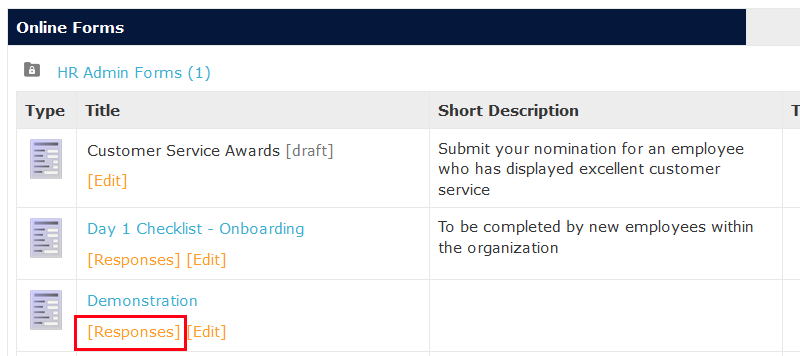 In the Responses area, there are various options, depending on what you want to do with the form data.
Summary - view results for questions as bar charts. Easy way to see results at a glance.
Filter - use this function if you want to filter results by users, dates, or fields.
Export Page - your form results from the visible page will download as a spreadsheet, or CSV.
Export All - all of your form results will download as a spreadsheet, or CSV. You can then sort, filter, delete, etc. in Excel. Note that spreadsheet responses must be exported individually.
Delete All - all of your form results will be deleted. A popup will confirm whether you're sure you want to delete all of your results.

Every form response has a unique identifier based on the form ID and the submission ID which is assigned after the form has been submitted. This provides a unique URL which allows someone with the correct permissions to view that form response directly. For example, intranetURL/forms/viewform.cfm?formID=2187&responseid=7707.
As of 15.0.10, we've now implemented a new look for the Responses view in the Online Forms app. It will now look like this:

To view the response, click the

icon in the Response column. The status indicators are as follows:
No workflow:
Pending:
Approved:
Declined:
Rejected:
Delete an Intranet Form
Deleting a form is just as easy as creating one.
Navigate to a page where the form is listed. Depending on how your intranet is set up, this could be in a folder within a Forms Repository.
Click [Edit] below the form's name.
Click the tab for Delete Form.
You'll be asked for confirmation that you want to delete the form as well as all responses.

If you're sure you want to delete the form and all responses, click

OK

. You're done.

If you want to get the responses before deleting, click Cancel.

Click the back button to return to the page where the form is listed.
Click [Responses] and view the Summary of responses in bar chart form, or Export All responses as a spreadsheet.

Start back at step #1 to delete the form.