Form Details
The most important detail about your form is the Title (1)! Make it clear and descriptive so users know exactly what the form is intended to do. You can also include a Short Description (2) which may display depending on your settings.
In this section you can also click the edit pencil to change the Owner (3) of the form or you can change the Category (4) by changing the folder where the form is housed. Changing the folder is really helpful if you want to move a form to a different category as part of a reorganization.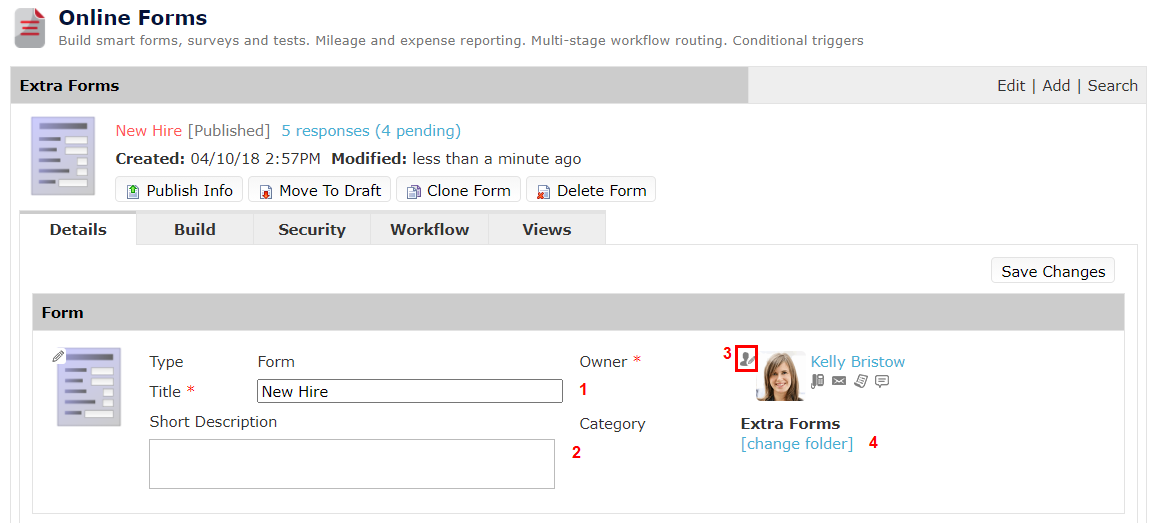 Responses
The Responses section gives you options for how often users can submit the form, and other specifics, as detailed below.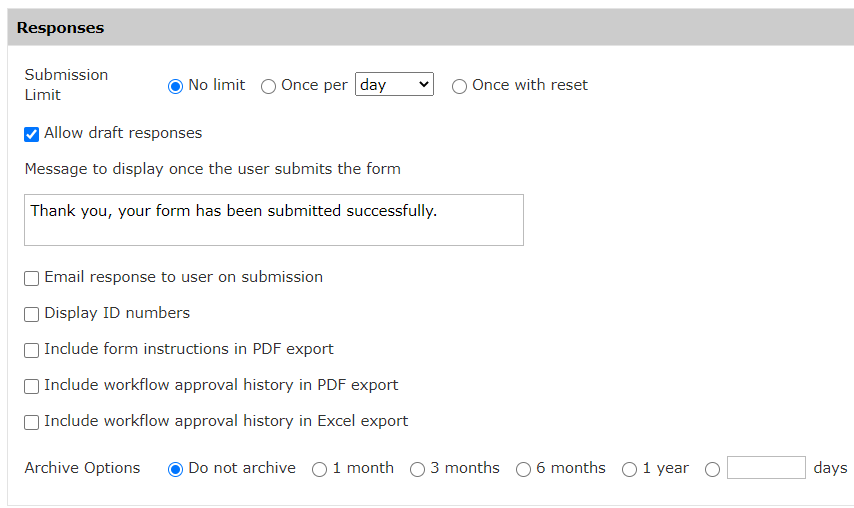 Submission Limit

- Set a limit on the number of responses a user can provide in a specified time period (i.e. either no limit or once per day/week/month/quarter/year). Alternatively, you can allow each user to submit a single form response. The one month limitation is based on the calendar month of the last submission (e.g. a form submitted in April can't be resubmitted by the same user until May 1st).

Allow Draft Responses

- This option allows users to save a draft copy of their form response, which is helpful for longer forms or when users might not have all the necessary information to fully complete the form. Users can save their progress, return to the form at a later time, then officially submit the form.

Message to display once the user submits the form

- What message do you want users to see after they've submitted their form?

Email Response to User on Submission

- Checking this box will send a copy of their form data to the user.

Display ID Numbers

- This option will give every form response a unique numerical ID value.

Export options

- If you plan on exporting the form data, there are several options for what will be included.

Archive Options

- Archiving past form responses can improve response loading performance and keep form responses clean. Choose the time period based on the volume of expected responses. Archived responses will be accessible solely through the form responses search interface.
Save Changes
There's a Save Changes button near the top and near the bottom of the page. Click either of these buttons before leaving the Details tab or you'll lose your work.