Create online surveys to measure employee satisfaction, gauge interest levels, collect data, or gather opinions.
Use radio buttons, drop down menus, check boxes, or message box fields to generate surveys for employees to fill out. View responses easily in graph format, and export results to an excel spreadsheet.
Build a Survey
Building a survey is very similar to building a form or test, and the same processes are followed. Review the basics of form building if you'd like a refresher:
Learn more about adding and arranging survey questions, and viewing responses in this short video:
Add a Question Bank
A survey also gives you the opportunity to add a question bank, which can minimize response bias by presenting a different version of the survey each time it's taken. A question bank is a pool of questions that will randomly be included into your survey, generating the same overall number of questions and points.
To add a question bank:
On the Build tab click add question bank, as shown below.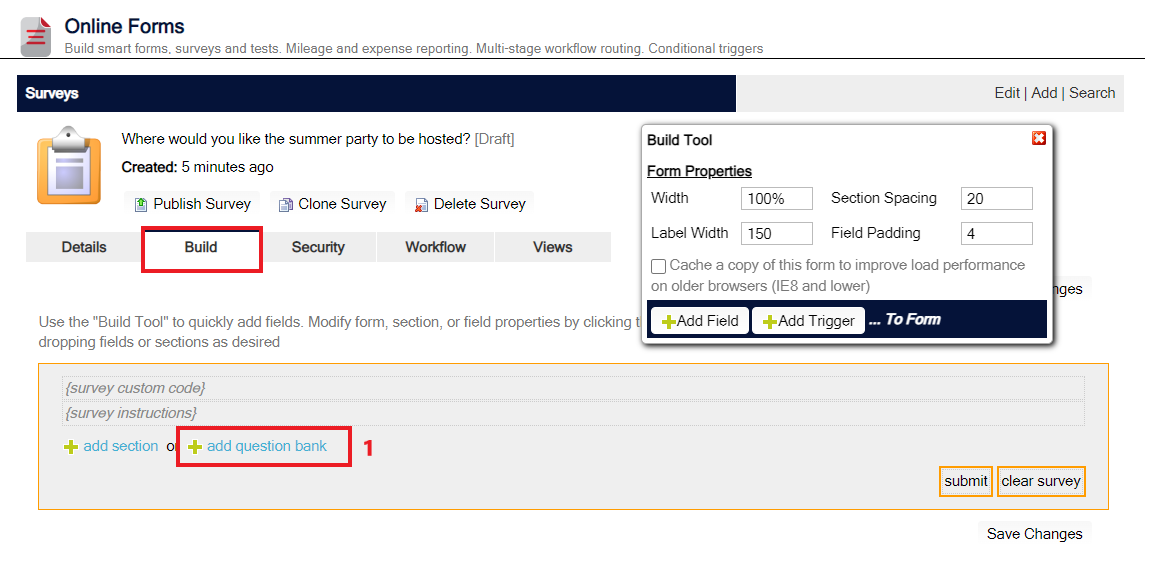 The Build Tool box appears, giving you the option to name this Question Bank, specify the number of questions to pull from the bank, and give the score for each question.
Note: questions must have been previously added for the 'Field Score' to show up.